The JCB is pleased to share this new WHO report which is the first technical document of the Global Network of WHO Collaborating Centres (WHO-CC) for Bioethics. The JCB was the lead WHO-CC in developing it.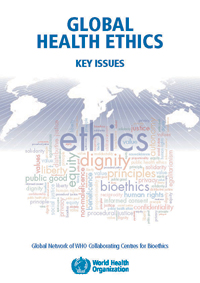 Global Health Ethics: Key Issues [PDF]
About the report:
Ethical questions related to health, health care, and public health cover topics as diverse as moral issues around reproduction, state obligations in the provision of health care services, and appropriate measures to control infectious disease. Scholars and health care professionals have debated ethical questions related to health and health care since the earliest days of medicine. Recent formal efforts to articulate international standards of ethics applicable to health and health care can be traced to the Nuremberg trials of 1947, during which the horrors of Nazi medical experiments came to light. The principles that emerged from those trials, known as the Nuremberg Code, are broadly applicable to many types of health-related research involving human participants, including clinical trials. The growing breadth and complexity of contemporary health challenges have produced a range of difficult questions that cannot always be adequately addressed by relying exclusively on existing policies, guidelines or codes of conduct. Debates over access to new and expensive pharmaceuticals and medical technologies, as well as increasing awareness of the gross health disparities that exist both within and between countries, have called attention to the need for an ethics of health policy and practice.
In the face of limited resources and competing priorities, health care service providers, biomedical and public health investigators, and policy-makers are often forced to make difficult choices about how best to secure optimal health outcomes for individuals and populations. Demands for rapid action may leave little time for adequate consideration of ethical issues. However, a failure to give explicit attention to ethics may result in various wrongs, such as harm and injustice, the consequences of which are often borne disproportionately by the most vulnerable groups. Thus, it is critical that ethics remains central to decision-making in health and health care.
This document aims to assist policy-makers, health care providers and researchers to understand key concepts in health ethics and to identify basic ethical questions surrounding health and health care. It illustrates the challenges of applying ethical principles to global public health and outlines practical strategies for dealing with those challenges. The document is divided into four main parts. The first part explores key concepts in health ethics and explains common terms, theories and principles. The second part examines the main challenges in the practice of health ethics from the perspective of global public health. These issues provide the reader with a concrete understanding of the various ethical obstacles that may arise in public health, health research, and the provision of health care services. The third part describes practical strategies for dealing with these challenges and the key actors involved in developing ethical frameworks. Finally, the fourth part explains why health ethics is important to WHO, and how WHO supports Member States in building capacity in health ethics.