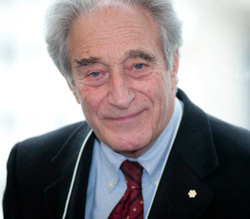 The University of Toronto Joint Centre for Bioethics (JCB) is on the verge of celebrating its 20th Anniversary (on Wednesday, December 2nd), so we looked back and talked to Frederick Lowy, one of the original founders, on where the JCB's origins lie.
What inspired the creation of The Centre for Bioethics, and now the Joint Centre for Bioethics?
The original Centre for Bioethics was created in 1989 because of my realization, as Dean of the Faculty of Medicine, that the absence of formal education in ethics was a serious gap in our undergraduate curriculum. I came to this in large part because a group of medical students, led by Peter Singer, organized a voluntary extra curricular lunch time series on bioethics because we had not been providing this in our formal offerings. At the conclusion of my deanship in 1987 I resolved to establish a Centre. Looking at the major medical-biological ethics centres in the United States I was attracted to the work of Dr.Edmund Pellegrino's Center at Georgetown University (part of the Kennedy Center). As I had right to a sabbatical/administrative leave after my 7 years as Dean I went down to Washington as a Visiting Fellow to immerse myself in the bioethics world.
Can you tell us a little bit about how this all came together?
On my return to Toronto, making use of the U of T contacts and whatever post decanal influence I still had, I approached colleagues who had been active in aspects of health related ethics and invited them to join me in creating a new interdisciplinary centre; they included, among others, John Senn (medicine), Wayne Sumner and Bill Harvey (philosophy), Bernard Dickens (law), Jim Till (biophysics and genetics), and two Torontonians who were completing graduate studies elsewhere – Peter Singer in Chicago and Eric Meslin in Washington. We set up an office in the Institute of Medical Science quarters in the Medical Science Building, benefitted from administrative help from Carol Nash and got to work. Subsequent acquisitions were larger quarters in the Tanz Neuroscience Building and later grander quarters in the former church at College and Elizabeth Streets.
What was your vision for the Centre of Bioethics/JCB?
Our vision for the Centre was to create a U of T interdisciplinary nexus for scholarship and research that would influence teaching and learning in the health faculties and related disciplines, not only in Toronto but nationally and beyond. It is gratifying that, through the work of the broader Joint Centre, this vision is being realized.