The Ethical Lessons from COVID-19: Past, Present and Applying Them to the Future of Cancer Care
October 20, 2021 @ 12:00 pm

-

1:30 pm

EDT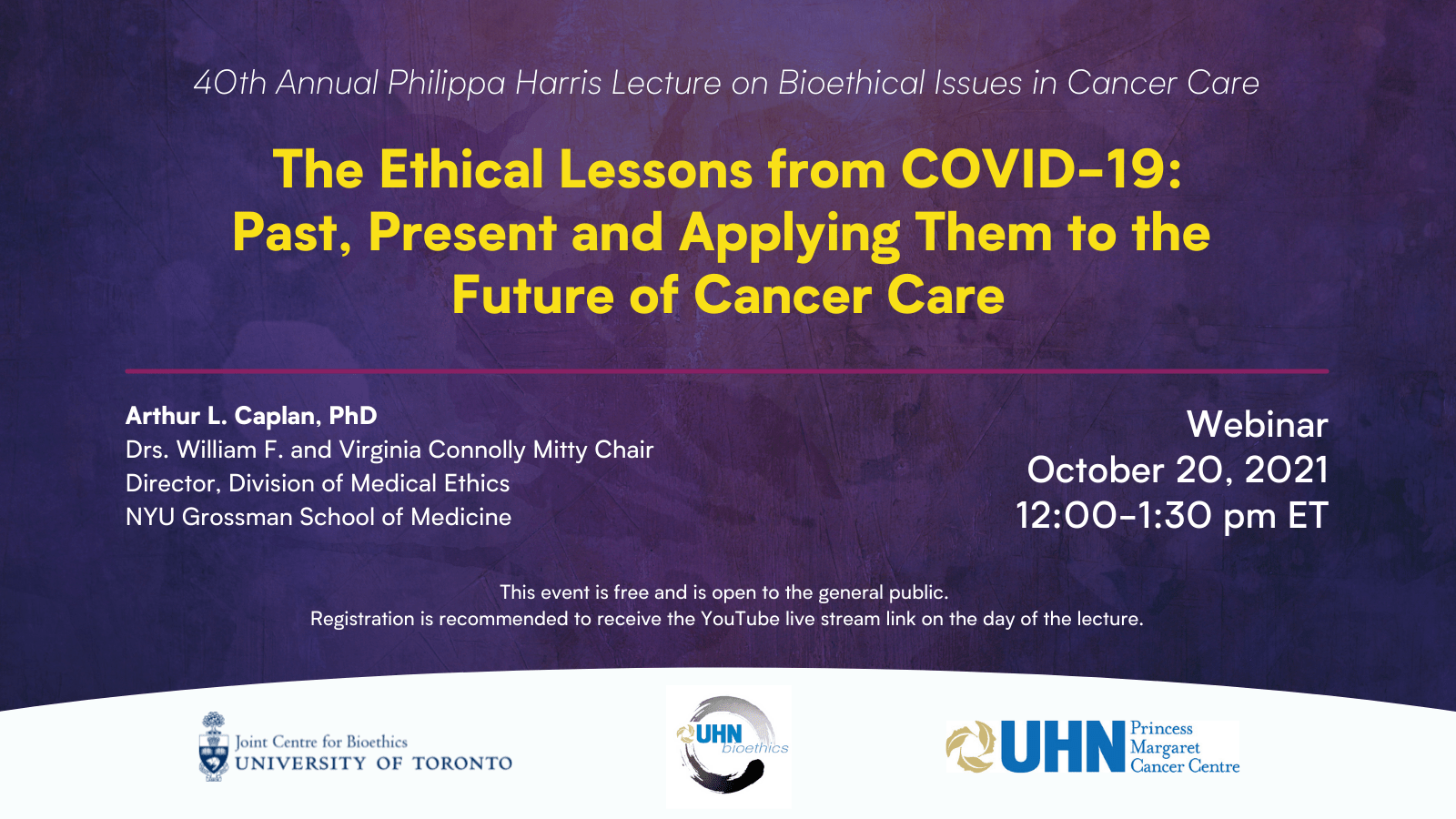 Speaker:
Arthur L. Caplan, PhD, Drs. William F. and Virginia Connolly Mitty Chair and Director, Division of Medical Ethics, NYU Grossman School of Medicine
About the lecture:
12:00 – Introduction and History of the Philippa Harris Lecture Series
12:10 – Introduction of the Speaker
12:15 – Speaker Presentation
1:00 – Question and Answer Period
Efforts to develop new drugs for the treatment and prevention of COVID-19 and make them available to patients as quickly as possible have been extraordinary in terms of increasing research funding, fostering collaboration, and regulatory flexibility. Patients facing other terrible diseases with unmet treatment needs have begun to ask why they have not been the beneficiaries of similar efforts. Where is their "Operation Warp Speed"? Why does FDA's power to issue Emergency Use Authorizations not extend to their emergencies, as their lives are threatened by conditions such as cancer with higher fatality rates than COVID-19? These are reasonable questions, but the pandemic bears a unique combination of features, including global impact, widespread population risk, a deep understanding of the viral target, and pre-existing foundational scientific work, all of which render the full strength of the COVID-19 response implausible for cancer and most other diseases. Although financial resources are important for scientific progress, many diseases are not yet well-enough understood for the science to move at "warp speed." Moreover, science funding demands priority setting. Not every disease can be a funding priority. Nonetheless, the response to the COVID-19 pandemic offers important lessons for non-pandemic diseases, especially with regard to the importance of collaboration, prioritizing the strongest research efforts within a given disease area, adopting innovative trial designs, sharing data, and holding fast to randomized controlled designs that enable trials to produce meaningful answers as quickly as possible. While regulatory flexibility is critical to allowing patients with unmet needs to access investigational products, another pandemic lesson is to be wary of the downsides of the Emergency Use Authorization pathway. Lower standards without adequate safeguards can result in safety concerns, missed opportunities for treatment and research, patient harm, and delayed progress in securing the high-quality evidence needed to answer important clinical questions.
The Philippa Harris lecture was established by Mr. and Mrs. Bill and Pat Harris in 1981 to celebrate the life of their daughter, Pippa, who died from cancer at the age of twenty. The lecture is shared between the Princess Margaret Cancer Centre, the UHN Bioethics Program, and the University of Toronto Joint Centre for Bioethics.
This event is free and is open to the general public. The YouTube live stream link to the lecture will be sent out to registered participants two hours before the event.
Questions? Please email Laurie Bulchak, laurie.bulchak@utoronto.ca.